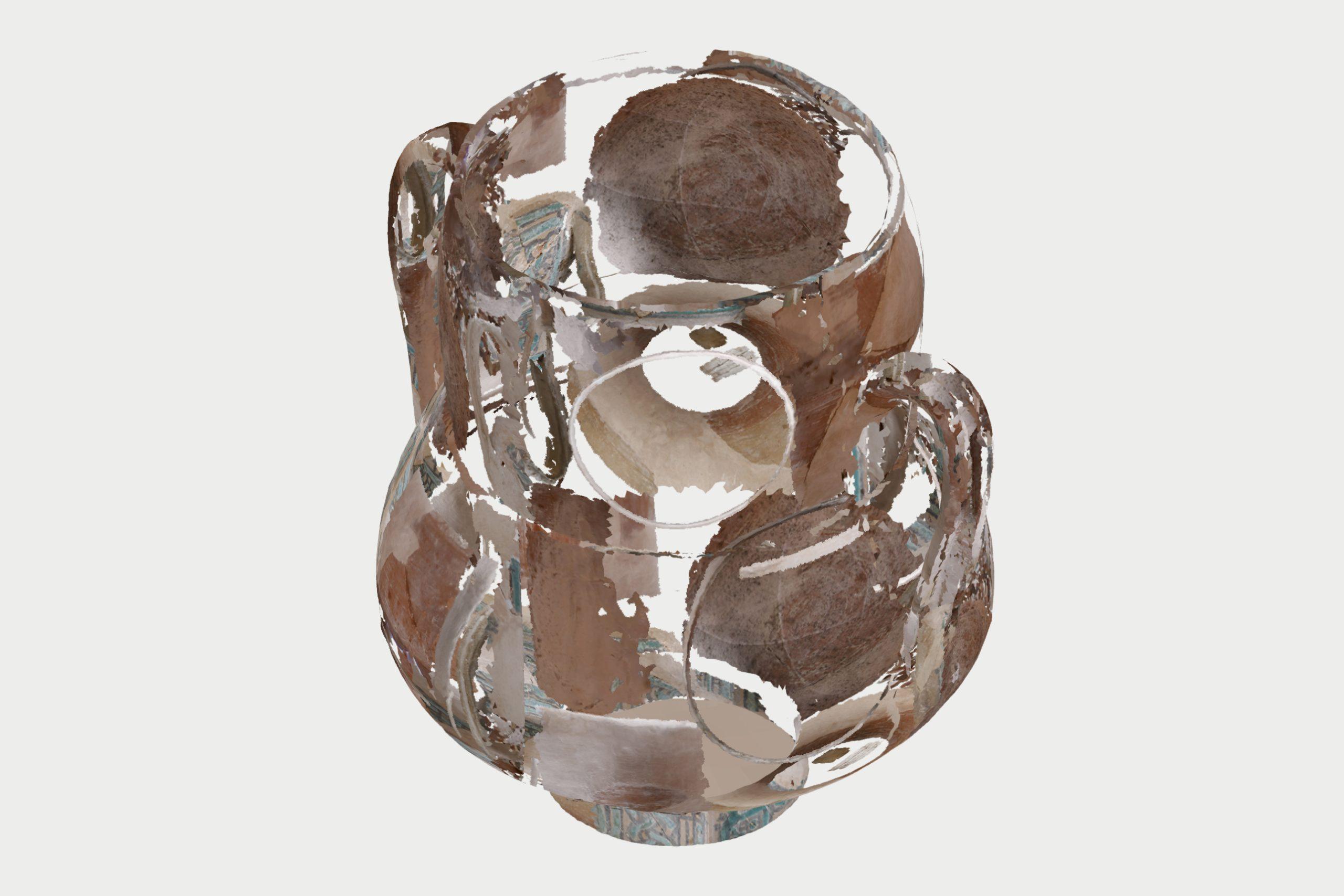 74 degrees
Artistic research residency that explores contemporary relationships with our material heritage, developed within the 'Cultura Resident' programme of the Valencian Community at the Museo de Bellas Artes de Castellón.
74 degrees celsius is the temperature reached by the computer graphics card as it reconstructs ceramic pieces from the collection of the Fine Arts Museum of Castellón, scanned in 3D using the photogrammetry technique.
Far from the 1000-1300 degrees celsius needed to fire the clay pieces, these new objects form an entity in themselves. They are not replicas of the physical world, although they are built from it. They are new objects with their own materiality and characteristics. In this exercise of digitalisation, clouds of points, vertices with coordinates, colours, meshes, texture maps appear. A sort of 'anatomy' of the virtual object that we will return, once again, to the physical world through a multi-media installation composed of synthetic textiles, plastic prints, HD screens and virtual reality experiences.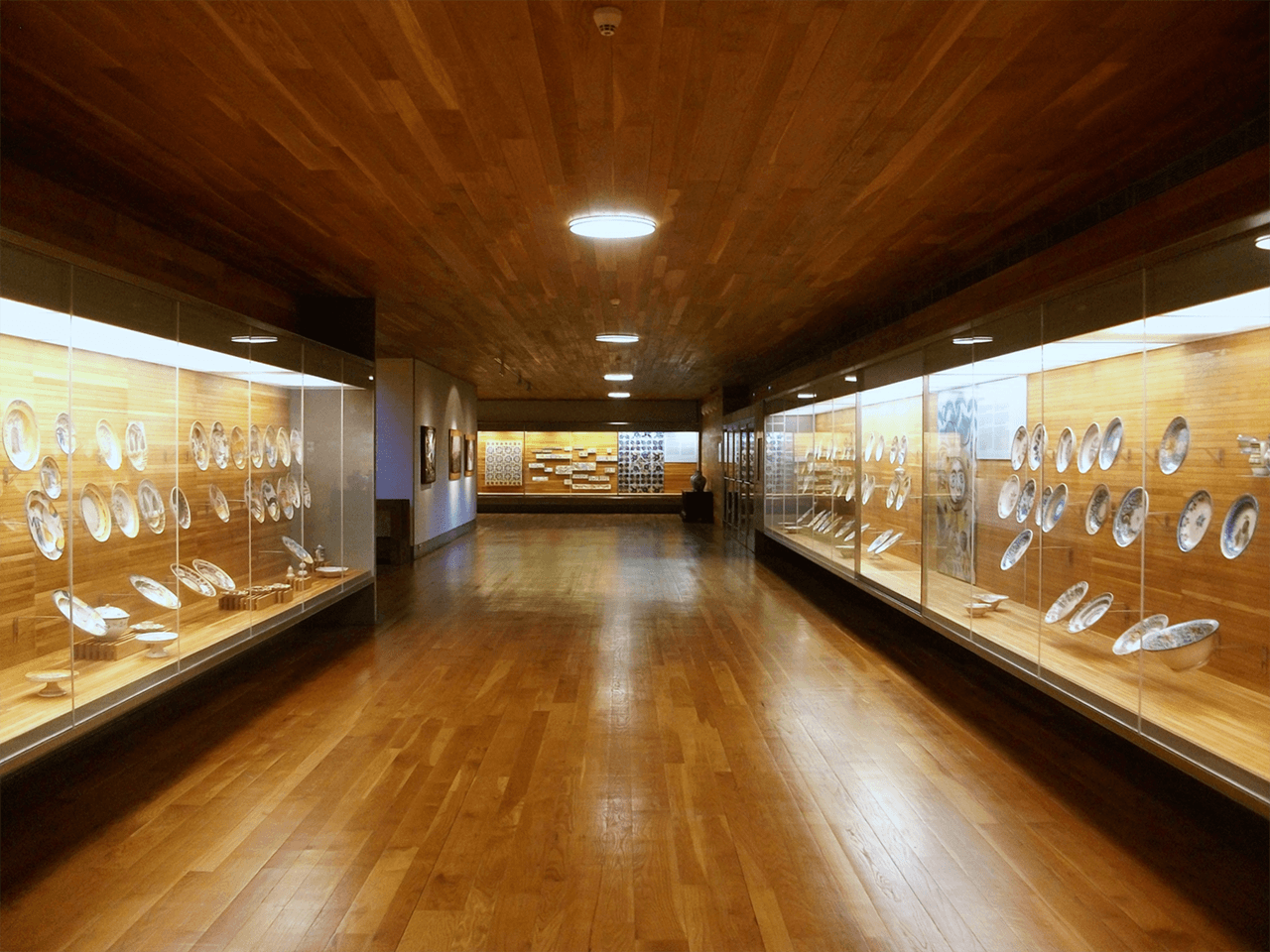 Ceramics room of the Museum of Fine Arts of Castellón
Opening the display cases of the Museum of Fine Arts of Castellón
The primary function of the museum is to acquire, restore, preserve, arrange and display unique objects according to a categorical logic, usually based on time. This generates a relatively complex information cloud of interrelated objects and linked data of size, colour or age. An abstract network of knowledge materialised -almost frozen- in the space of the museum. The narrative logics characteristic of digital culture allow us to approach this cloud of relationships in a different way.
In 2019 we were selected to take part in the Cultura Resident research residencies at the Museum of Fine Arts of Castellón. Based on the museum's collection of Valencian ceramics, we investigated new ways of approaching culture and our material legacy from the virtual environment.
Aguamanil, Escuela de Manises, s. XIX
Aguamanil, 3D model, 2019
Aguamanil, texture map, 2019
Plat de demaná, Valencia, s. XIX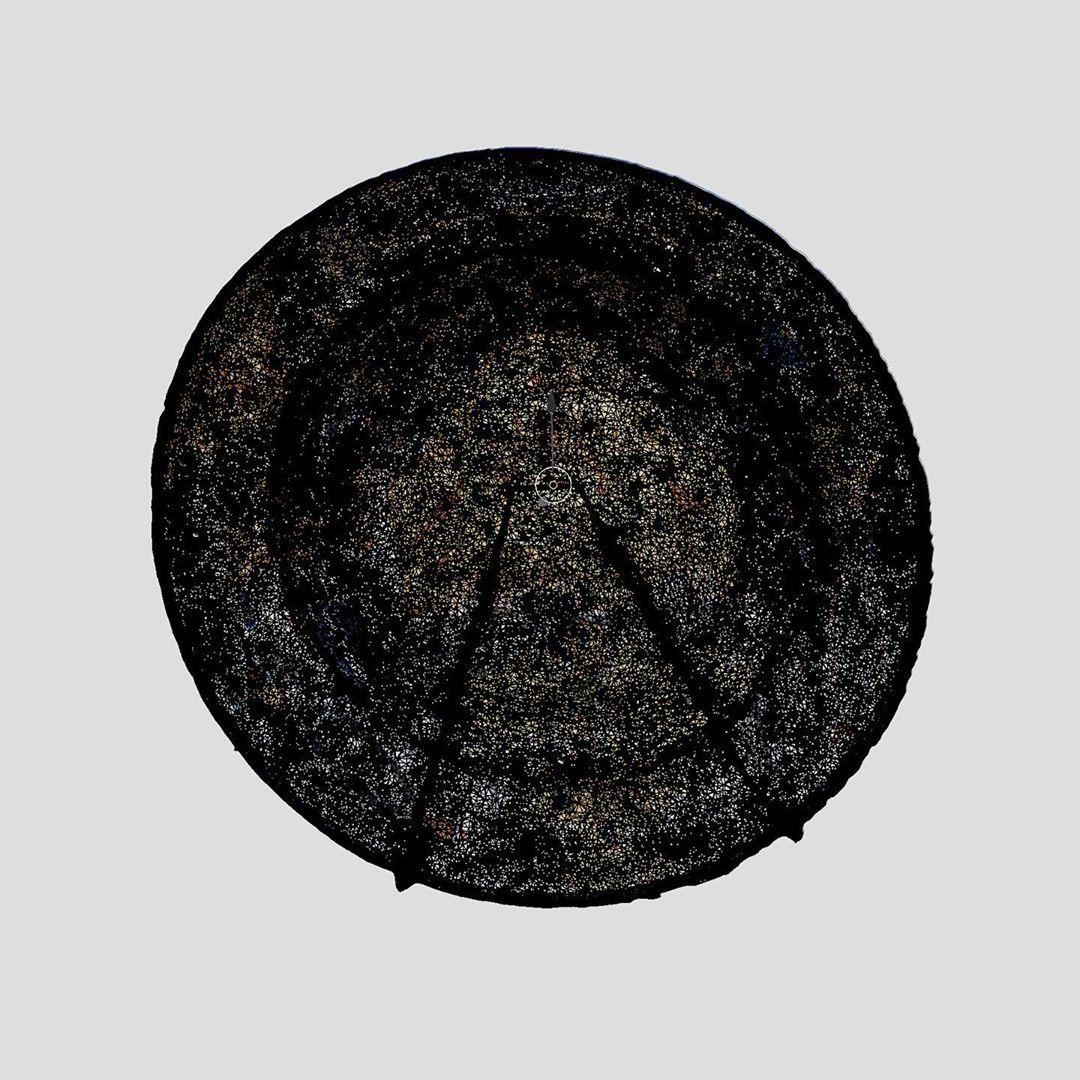 Plat de demaná, 3D model, 2019
Plat de demaná, texture map, 2019
Digital ceramic 1, glitched reconstruction from pre-Roman vessel
Digital ceramic 2, glitched reconstruction from pre-Roman vessel
The project 74 degrees has been exhibited at:
– Museum of Fine Arts of Castellón, Castellón 2019. Presentation of the results of the research residency Cultura Resident.
– Casa Banchel, Madrid 2019. Group exhibition 'SOLO SHOW' curated by Casa Antillón.
– Sala Negre, Las Cigarreras Cultural Centre, Alicante 2020. Solo exhibition 'Fragments' curated by TODOBIEN.
Exhibition Cultura Resident, Museum of Fine Arts of Castellón, 2019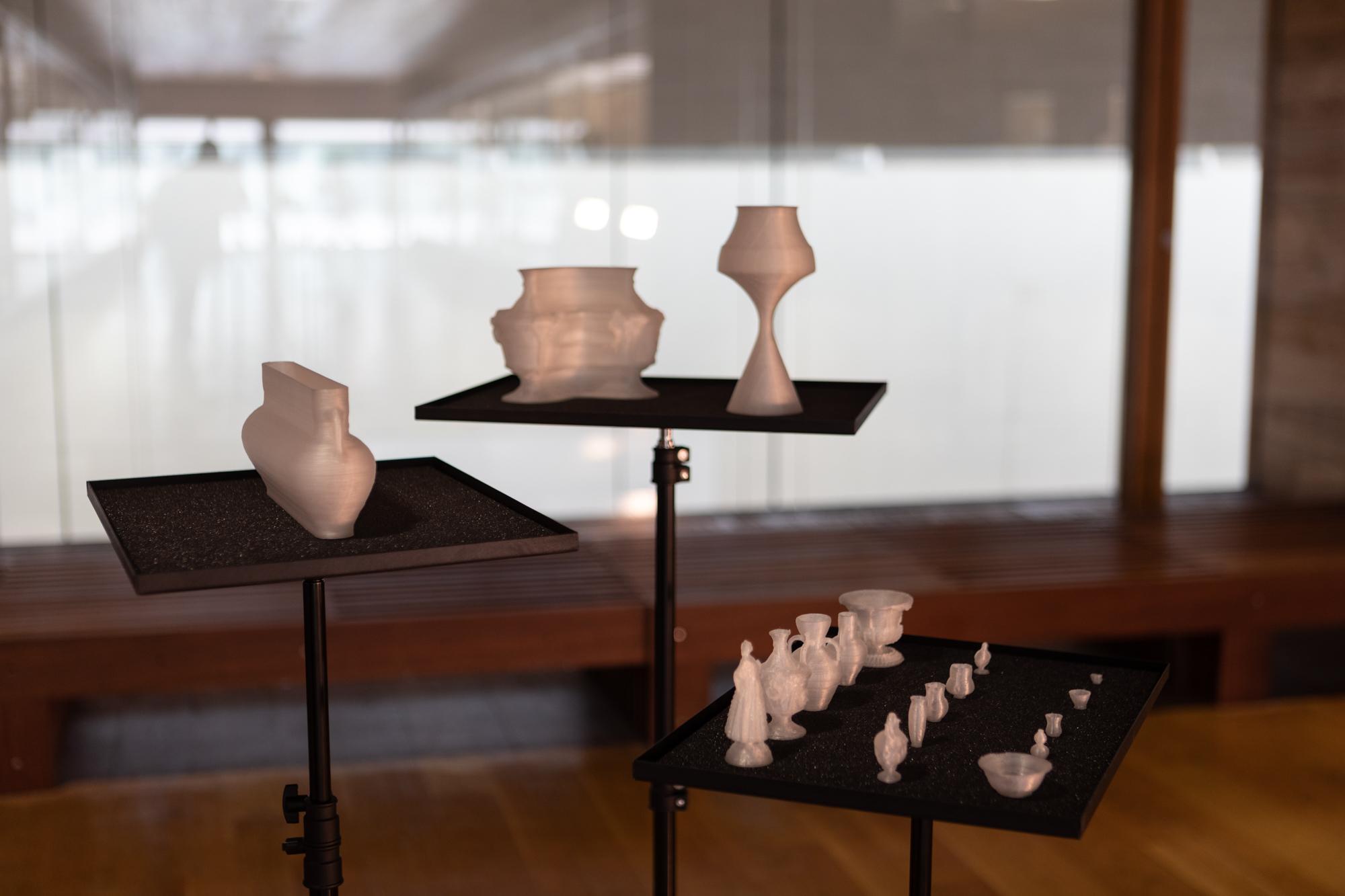 Exhibition Cultura Resident, Museum of Fine Arts of Castellón, 2019
Exhibition Solo Show, Casa Antillón x Casa Banchel, 2019
Exhibition Solo Show, Casa Antillón x Casa Banchel, 2019
Exhibition Fragments, Sala Negre, 2020
Exhibition Fragments, Sala Negre, 2020
CURATED BY
Cultura Resident, programme of artistic residencies of the Valencian Region
EXHIBITIONS
Museum of Fine Arts of Castellón, Castellón 2019
Casa Banchel, Madrid 2019
Sala Negre, Centro Cultural Las Cigarreras, Alicante 2020
WITH THE COLLABORATION OF
Aida Salán and ALV Adina (Exhibition 'Fragments' at Sala Negre)
YEAR
2019-20
LOCATION
Castellón, Spain